As more and more people are becoming aware of their gluten intolerance, the demand for gluten-free food is on the rise. If you love chocolate and want to make a gluten-free cake that is both delicious and easy to make, you have come to the right place. In this article, we will show you how to make a gluten-free chocolate cake that is sure to impress your family and friends.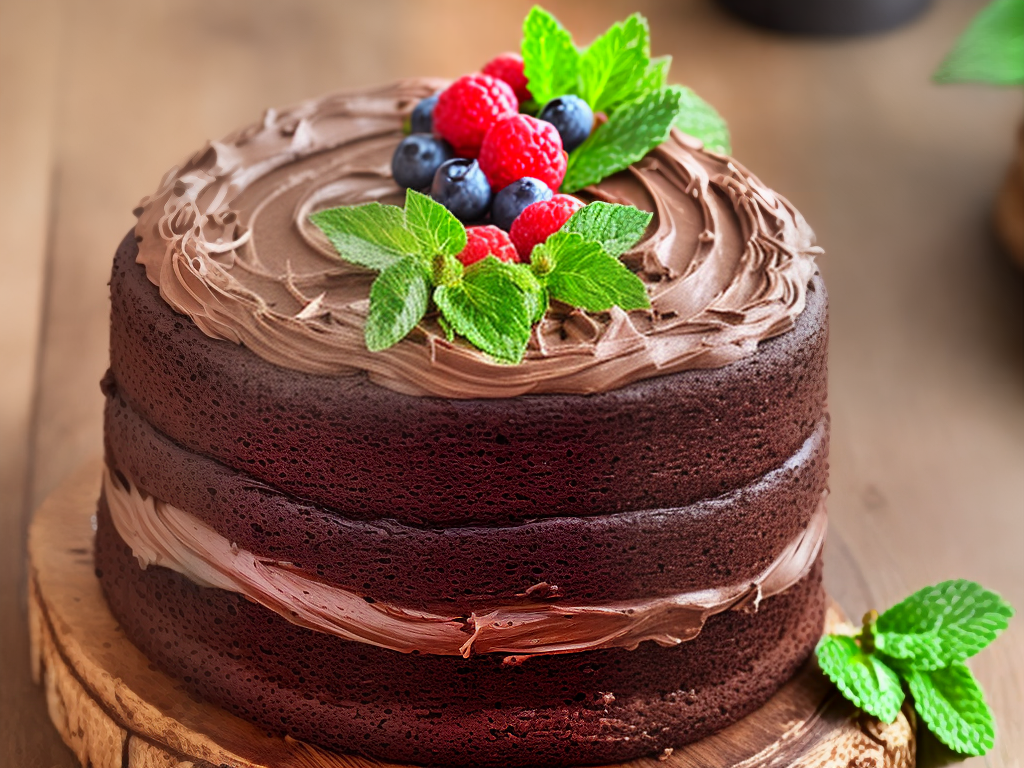 The Ingredients You Will Need
Before we start, let's take a look at the ingredients you will need to make this mouth-watering chocolate cake. The ingredients are:
1 cup of all-purpose gluten-free flour
1 cup of sugar
¾ cup of unsweetened cocoa powder
1 teaspoon of baking powder
1 teaspoon of baking soda
1 teaspoon of salt
1 cup of buttermilk
½ cup of vegetable oil
2 large eggs
1 teaspoon of vanilla extract
1 cup of boiling water
You can find most of these ingredients at your local grocery store or health food store. Make sure to double-check that the ingredients are gluten-free before purchasing.
The Steps to Follow
Now that we have all the ingredients, let's dive into the steps to follow to make this delicious gluten-free chocolate cake.
Step 1: Preheat the Oven
Preheat your oven to 350°F (175°C). Grease two 9-inch round cake pans with vegetable oil and dust them with gluten-free flour.
Step 2: Mix the Dry Ingredients
Take a large mixing bowl and whisk together the gluten-free flour, sugar, unsweetened cocoa powder, baking powder, baking soda, and salt.
Step 3: Mix the Wet Ingredients
In a separate mixing bowl, whisk together the buttermilk, vegetable oil, eggs, and vanilla extract.
Step 4: Combine the Wet and Dry Ingredients
Slowly pour the wet ingredients into the dry ingredients, whisking until the batter is smooth and lump-free.
Step 5: Add Boiling Water
Gradually add the boiling water to the batter, stirring until well combined. The batter will be thin, but that's normal.
Step 6: Bake the Cake
Pour the batter evenly into the two prepared cake pans. Bake for 30-35 minutes or until a toothpick inserted in the centre of the cake comes out clean.
Step 7: Let the Cake Cool
Remove the cake pans from the oven and place them on a wire rack to cool. Let the cakes cool completely before frosting.
The Frosting
No cake is complete without frosting, and this gluten-free chocolate cake is no exception. Here's how to make the frosting.
Ingredients
1 cup of unsalted butter, softened
3 cups of powdered sugar
½ cup of unsweetened cocoa powder
½ cup of heavy cream
1 teaspoon of vanilla extract
Steps to Follow
In a large mixing bowl, beat the softened butter until smooth and creamy.
Sift the powdered sugar and cocoa powder into the mixing bowl and beat until fluffy.
Gradually add the heavy cream and vanilla extract, beating until the frosting is smooth and thick.
Conclusion
In conclusion, making a delicious gluten-free chocolate cake is easy if you have the right ingredients and follow the steps we have outlined in this article. Whether you have a gluten intolerance or want to make a cake that everyone can enjoy, this gluten-free chocolate cake is sure to be a hit at any gathering. So, go ahead and give it a try!